Author: David Zhang, Lead Structural Engineering Manager, BEng (Hons) MIEAust CPEng NER RPEQ
e: david.zhang@multinail.com p: 07 3297 3272
If the current global pandemic isn't enough for Truss & Frame fabricators to deal with, they are also faced with the uncertainty of timber supply. During this period, truss and frame fabricators are facing some huge challenges in maintaining their stocks to a controllable level to suit their production requirements with the strong housing demand.
We are hearing the same timber shortage problem in Engineered Wood Products as well.  Some deep sections are extremely hard to order with long lead times. This is causing huge delays in projects where these products can be specified in designs.
Many truss and frame fabricators are looking for alternative solutions to optimise their timber usage. From the last softwood timber shortage crisis in 2017, our industry brainstormed ways to reduce truss and frame fabricator dependency on timber elements and provided some alternative design solutions to overcome the temporary problems.
Truss and frame fabricators have their own strength in this situation – the use of Metal Connectors. Utilising any timber members available with solutions from design engineers, they can manufacture bespoke structural components with powerful truss and frame manufacturing machinery.
Solid timber joists to open webbed floor joists
Open webbed floor joist systems can significantly ease some challenges in fulfilling orders for conventionally manufactured floor systems, especially when other engineers call for solid or engineered sections. You may find this is a good opportunity to convert your customers to open webbed floor systems and a good time
Sarah BrownSbrownto review all the benefits that your customers will encounter on-site with an open webbed supplied floor system.
Nailplated timber members
A horizontally laminated nailplated timber member can be designed as primary structural elements, e.g. beams, bearers and lintels. These types of structural members require two smaller sections of timber to be nailplated together horizontally to create a deeper section. Typically, we can create a 240×35 section by horizontally laminating two 120×35 together with nailplates, designed by structural nailplate suppliers. We can also combine two 240×35 laminated timber sections together to form a 2/240×35 section (see Figure 1), increasing its strength and capacity.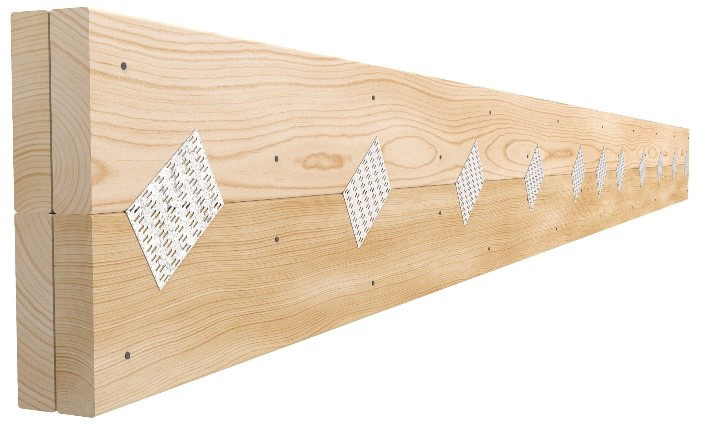 Fig 1 – Multinail MultiLam: an engineered nailplated timber structural member

Trussed lintels
Another solution for truss and frame fabricators is to manufacture engineered trussed timber lintels to replace some sawn section timbers. Although there will be quite a few limitations in this application, depending on different loading scenarios, it is still possible to engineer the trussed timber lintels in some cases.
Metal product replacement
Another way to reduce timber usage in buildings is replacing small length timber members with metal products. For example, short timber noggings used in between roof trusses for temporary bracing and assisting in the erection of roof trusses can be replaced with Metal Truss Spacers. Multinail also has its own patented Steel Nog System which can assist manufactures to minimise timber usage in Wall Frames.
We all want to assist truss and frame fabricators in seeking alternate solutions to navigate their way through this timber shortage. Engineering design solutions isn't the only area where timber saving can be realised. Evaluating your current production methods and saws can also be an area we can help.
Any solution given to your customers with nailplates used in the design must be certified and approved by an engineer. We strongly recommend you review your designs and manufacturing processes and consider the suggestions above to assist in minimising the impact of this current timber shortage.
Originally published in FTMA's Tech Talk (Edition 36, April 2021)